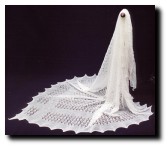 A 54" x 54" Fine Lace Shawl.
(Click pic for full product line)
Fine lacy Christening shawls, baby shawls, evening shawls and wraps, stoles, squares and scarves made on early 19th Century William Lee type framework knitting machines invented in 1589.


Handframe still pictures are here.

Each garment comes with a printed history of the framework knitting machine and the life of the framework knitter.